Are you looking for a good supplier of ink and toner cartridges?

A4toner is a company specialized in wholesale and retail sales. On the web by default it displays the pvp price, but if it is a trade and you request it we will assign you a special rate with great discounts.

Why have a supplier of A4toner as a wholesaler of ink and toner cartridges, compatible consumables?

A4toner has more than 15 years of experience in the sale of compatible and original consumables. After having the own stores and the franchises we have compiled a lot of information about the preferences of the clients, and which product is the one that generates the most benefit over time.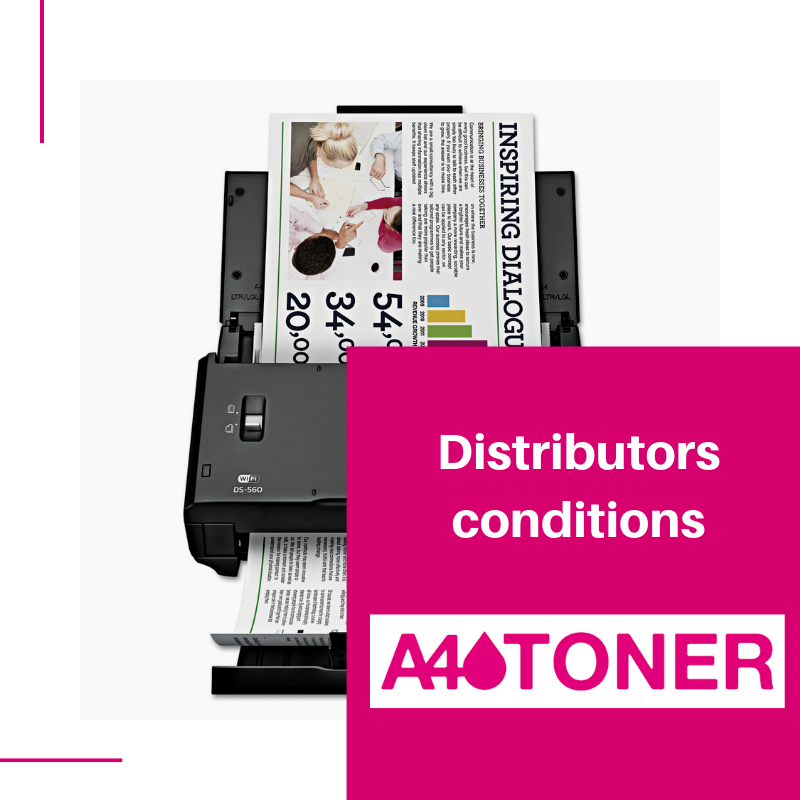 It is true that maybe we are not the cheapest wholesaler, but if you have a store there are two very important things that you have to know:

Our products are good, work well and do not generate many problems:

We have been listening to the history of the waste pickers in Spain for 15 years, as it may be that most have closed when in the other European countries this has not happened. It is simple, the stores ask for price, they lower quality to adjust, the final customers stop buying or claim. And you enter the loop in which for what you win, the problems generated and store does not interest to continue. We have a product with the brand that guarantees recognition by customers and continuous quality over time.

Our products comply with the laws on patent issues of OEMs:

There is a lot of very good cartridge and toner and very cheap, with which you can work for years without problems, earning money and with total satisfaction, the only one who may not like it will be the originals manufacturers. Another reason to work with us is that the price is the same for everyone, we do not make distinctions between customers and we will treat you the same, buy ink cartridges every day, or buy punctually once a year.


Do you want to open an account as a distributor?

Do you want to sell our consumables in your store?

If you have a trade, and you sell consumables for a printer, or you are thinking of expanding your store with the sale of these products, register as a distributor. To register as a distributor of consumables, first create an account at www.a4toner.com. Then send an email to comercial@a4toner.com indicating in the title "HIGH DISTRIBUTOR", and attach the IAE or 036/037 of your store or company, in which you can see clearly in what heading you are registered. If the email with which you have registered on the web, is different from the one you write us, tell us, if not necessary. You will receive a mail indicating if everything is correct and giving you more information. Any questions we will contact you. This process does not usually take more than two days. We have you.

To register as a distributor you have to follow the following steps:

- Register on our website as a client and
- Send us an email Census registration statement of your company, send it from the same mail that you registered on the web.

- Once registered you will have to wait for a distribution partner to contact you to provide special rates and conditions.

This process usually takes one or two days.

Here we state the conditions.

1. Form of payment. Depending on the type of billing you have, you will be assigned some forms of payment. Before receiving the order, it must be paid.

2. Shipments to the Iberian Peninsula are free of charge from €300 of taxable income. For the rest of Europe the amount of the transport will be valued and informed before the shipment is made, this will vary according to country, volume and weight.

3. The price of all items is indicated with and without VAT.

4. There is no minimum order.

5. The usual delivery time is 24h / 48h, not taking into account the holidays. This can be delayed by including in the order references under request, in this case the reception of the same would be 48h / 72h. Very occasionally we would not do the shipment due to lack of stock, in that case, a sales representative would contact you to resolve the situation, and be able to give it a date if any.

6. We ensure the departure on the same day, except in cases of force majeure, orders placed and confirmed before 4pm from Monday to Thursday. Fridays before 12 noon.

7. The originals and products on demand, orders specifically for you, it is necessary that they are paid to process your purchase and subsequent shipment, that is, they do not allow cash on delivery or payment in hand. They can not be returned.

8. All distributors generate their order through the web. In it you can see the order history and change your data or preferences.

9. Once the order has been sent, it can not be changed or modified.

10. Possibility of dropshiping, the order is sent to your final client without identification of a4toner. If this option is not activated at the time of confirming the shipment, contact the commercial to place the shipment to the final customer. The shipping amount includes the extra for this service.

11. The guarantee of the original products, are those same brands who manage it, even so, contact us to help you. The rest of the products marketed by us have a 1 year warranty. Our commercials will manage the change or return or repair of the item.

12. To manage an RMA, it is recommended to save several items and send them all together. Always bearing in mind that the guarantee is for 1 year and that the products will not be accepted if they are below 50% capacity, handled or refilled. Always call or send an email first, the commercial will provide you with the data to make the sending of this material, including the rma number that will have to be clearly visible. To make the guarantee effective, a screenshot with the error and / or a defective print is necessary, unless the A4toner technician tells you otherwise. The cargo charge is on your side. You must indicate or tell us if you want a refund of the amount or replacement. In the case of refund of the amount you must indicate the account number where you want the deposit to be made. The replacement of the products will be attached to your next order placed.


To contact the commercial service call 937 566 000, extension 1, or send an email to comercial@a4toner.com


Dropshipping in ink cartridges and toner, your solution!

People are tired of not finding a job opportunity, many have chosen to create their own online business.

Online stores are a fairly safe option to carry out your business, as more and more buyers rely much more on the internet due to the convenience, the inexistence of schedules and the possibility of finding more competitive prices.

It is for these reasons that we encourage you to create your business with A4toner, using Dropshipping, since it is the most convenient and efficient way to sell, without the need to have stock.


What is Dropshipping based on?

Dropshipping is a retail sale where the retailer (you) entrusts you with the sale of the product to your client, but without the need to dispose of it. That is to say, you reach an agreement with us so that we are the ones who send the merchandise to your client, with neutral appearance (box and seal without logos, and inexistence of the delivery note in the merchandise). This way you save the need to previously buy products to keep in stock, and also save a shipment.

Obviously, we offer you a rate of products with more profit margin, which will increase as billing grows, so that your profits are greater.

In this way, your online store will progress, since you do not need to have stock of toners and cartridges, both original and compatible, that you sell, and you can work comfortably from anywhere, only having your computer and internet connection.


So now you can start up creating your virtual store to present the products you're going to want to sell.

Then you have to register on our website, and mail the model 036 In a matter of 24/48 working hours you will be registered as a distributor and you can start processing your orders, it's that easy! From A4toner we encourage you to start your own business, with secure benefits, and without risk to accumulate merchandise that is not going to be sold.